Wilkinson Coats of Arms
Coats of arms are and were associated with a specific person rather than a family. However, in modern times this distinction is often ignored. The Coats of Arms below are some that have been associated with the Wilkinson name in various sources.
Wilkinson Mottos
There are many mottos associated with Wilkinsons coats of arms. Armorial Gold Heraldry Services lists the following 5, some of which show up in the pictures and descriptions below.
Early and late
Esse et videri (To be and to seem to be)
Incepta persequor (I persevere in what I undertake)
Nec rege, nec populo, sed utroque (Neither for king nor people, but for both)
Tenez le droit (Keep the right)
Unicorn Heads
This coat of arms is officially documented in Burke's General Armory.
The translated description of the shield is:
Red; a silver wavy horizontal band between three silver unicorns heads severed.
Above the shield and helmet is the crest which is described as:
Out of a red mural crown, a silver unicorns head severed.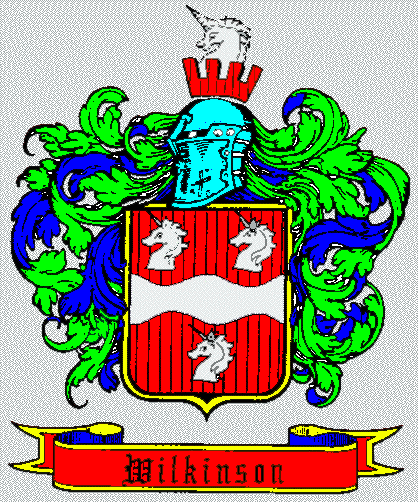 From The World Book of Wilkinsons published by Halberts Family Heritage.
Colors chosen from the description, and are not guaranteed to be accurate.
Unicorns with a Horizontal Stripe (Design I)
This coat of arms came from one of the genealogy shops that have sprung up all over the country in England. The company claims that this one is modeled from the most ancient coat of arms for which it could find a record. The description is:
Coat of Arms: Blue with a horizontal stripe between three unicorns.
Crest: A unicorn emerging from a crown.
Motto: Tenez le Droit (Hold the Right).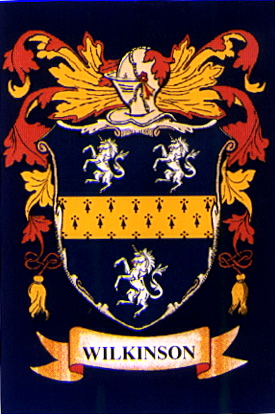 Gold Crescents and Shamrocks (Design I)
This coat of arms was originally submitted by Gideon Wilkinson King from a keychain he purchased. A picture of a different one purchased in England shown below. The keychain was produced by:
Treasure House of Heraldry Ltd.
Llandudno, LL30 2DT
United Kingdom.
The description is:
Shield: Argent on a chevron between three trefoils slipped sable as many crescents or, a border engrailed azure. (A silver shield and on a black chevron are three gold crescents. Around the chevron are three shamrocks of black and a border of blue.)
Crest: A stag's head erased azure, attired argent, charged on the neck with a sun or. (The head of a blue stag with silver horns with the mark of a gold sun on its neck.)
Motto: Ad finem fideles. (Faithful unto the end.)

Unicorns with a Horizontal Stripe (Design II)
This Coat of Arms was submitted by Robert John Wilkinson of Burlingame, CA.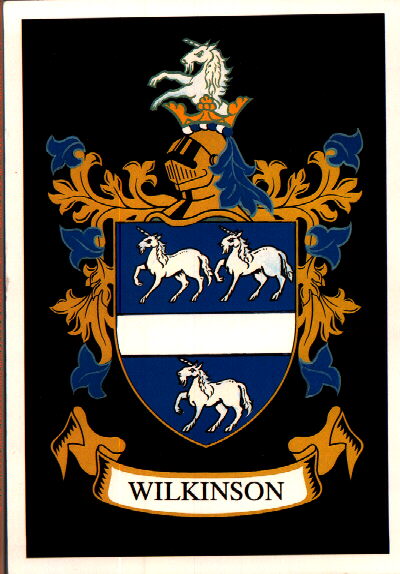 Opposite Side of the Card: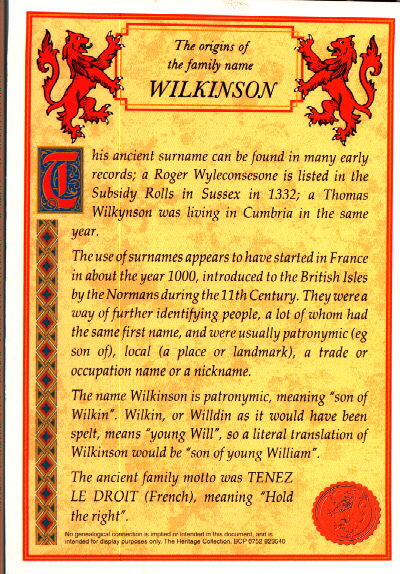 Unicorns with a Horizontal Stripe (Design III)
A Wilkinson Coat of Arms was submitted by John S. Wilkinson with the note:
"Attached is a Coat of Arms that was in my families house since late 1960's early 1970's. I am told that it was sold through Sears and Roebuck Catalog."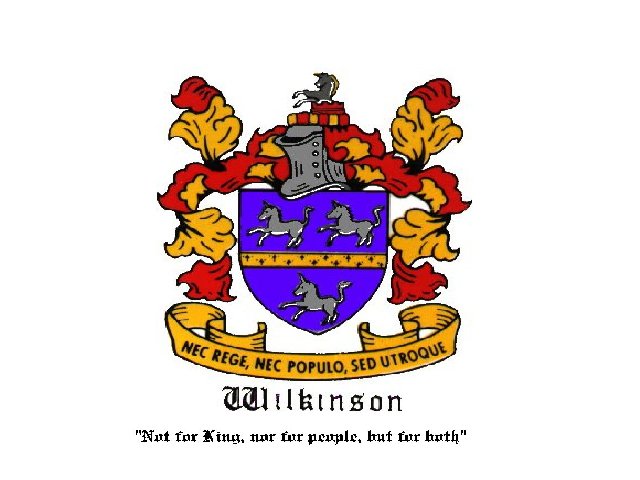 Unicorns with a Horizontal Stripe (Design IV)
The contents of a genealogical study of the Wilkinson family and Coat of Arms (completed in 1865) was submitted in 2010 by Armando Framarini. It claims to explain where the whole "Unicorns" theme came from. The original text can be viewed in The Heraldic Journal at Google Books.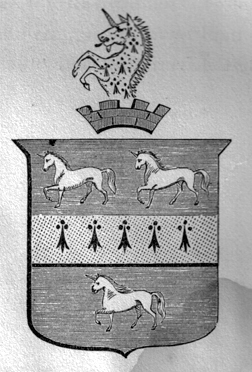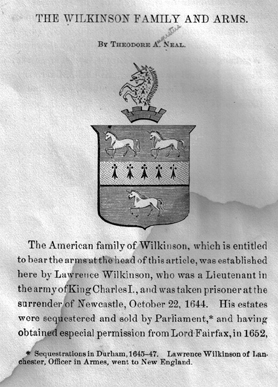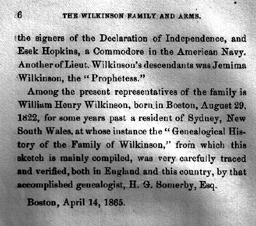 The text states:
The American family of Wilkinson, which is entitled to bear the arms at the head of this article, was established here by Lawrence Wilkinson, who was a Lieutenant in the army of King Charles I, and was taken prisoner at the surrender of Newcastle, October 22, 1644. His estates were sequestered and sold by Parliament, and having obtained special permission from Lord Fairfax, in 1652, he went with his wife and son to New England, and settled at Providence, Rhode Island, where he had lands granted to him, was made freeman in 1658, chosen Deputy to General Court in 1673, and died May 9, 1692. He was the son of William WIlkinson of Lanchester, in the county of Durham, by his wide Mary, sister of Sir John Conyers, Bart., and the grandson of Lawrence Wilkinson of Harpley House, Durham, to whom the above arms were confirmed, and the crest granted September 18, 1615, as appears by the following extract from a grant issued by Richard St. George, Norroy King at Arms.
" ..... being now requested by Lawrence Wilkinson ...... to make search for the antient Coate armor belonginge to that name and Familye, which I fynd to be Azure a fesse crminois betwene thre unicorns passant Argant; and for that I can fynd noe creast proper or belonging thereunto, as many Antient Coates at thei dat there is wanting, he hath futher requested me to confyrme unto him such a one as he may layfully beare ...... I have likewise condescended unto and allowed him this Creast ensuinge (vide) a demy unicorne erazed erminoys standing on a murall crown gules; as more plainly appeareth depicted in the margent all which Armes and Creast I the said Richard St George Norroy do give, grant, ratifye and confyrme unto the sayd Lawrance Wilkinson, and to the severall descendants of his bodye forever bearing their due differences."
Lieutenant Lawrence Wilkinson's grand daughter Ruth married Wm. Hopkins, and among their sons were William Hopkins, Governor of Rhode Island and one of the signers of the Declaration of Independence, and Esek Hopkins, a Commodore in the American Navy. Another of Lieut. Wilkinson was Jemima Wilkinson the "Prophetess."
Among the present representatives of the family is William Henry Wilkinson, born in Boston, August 29, 1822, for some years a resident of Sydney, New South Wales, at whose instance the "Genealogical History of the Family of Wilkinson," from which this sketch is mainly compiled, was very carefully traced and verified, both in England and this country, by that accomplished genealogist, H. G. Somerby, Esq.
Boston, April 14, 1865
Canting Arms
This description of Wilkinson Canting Arms was submitted by Diane and Lanette Wilkinson of London, England.
My daughter and I found another reference to a Wilkinson shield in Boutell's Heraldry (1958). It is unlike any of the examples on your web page. It is given as an example of canting arms including shells:
"Per pale or and vert, a chevron between three whelk-shells, all countercharged."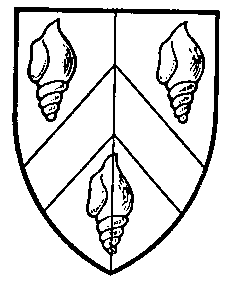 Canting arms (also Allusive arms and Armes parlantes): Arms which pun or play on the name of the bearer. ("Whelk" sounds like "Wilk").
Whelk (also Welke) shell display of the shell of the whelk erect, with the opening in chief and with no part of the fish visible.
The example shows only the shield. Without the other clues (helmet and crest), it is difficult to estimate the time this may have been used, but I suspect it must have been an earlier version than the more common version displaying the unicorns. We saw repeated examples of shells used in canting arms for the Shelley name. It seems reasonable that the use for Wilkinsons may have died-out.
Whelks and Lion
This Coat of Arms was sent by Mark Wilkinson of Ireland, scanned from a picture in his house. The description is:
This coat is registered in the office Ulster King of Arms on the 17th of February in the Tenth year of King George V (1920). The motto states "MEMOR ET FIDELIS" .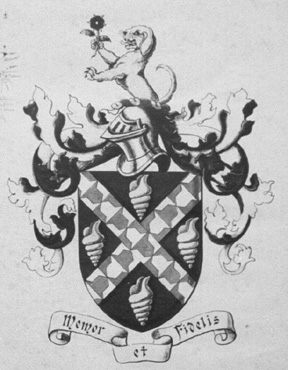 Gold Crescents and Shamrocks (Design II)
This Coat of Arms was downloaded from the A Family Affair website operated by Sean Morgan Knight. It is remarkably similar to the keychain version above, and probably has the same source.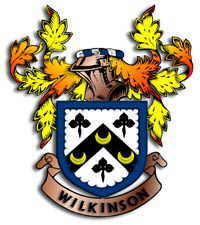 Unicorn Design IV and Crescent Design III
The following Coats of Arms were provided by Mike of http://www.4crests.com.