The Rodent Revolution Begins
The first step is to knock out communications.
Rats in New Zealand.
Squirrels in England.
Badgers in Sweden.
Squirrels in New York City (scroll down a bit).
Then, they'll come after the power grid.
Squirrels pretty much everywhere.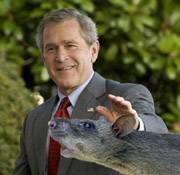 The President Placates the Leader of our Future Overlords.
Labels: creations, distractions, humor