The Wilkinson Book
Compiled and Edited by Patricia Wilkinson-Weaver Balletta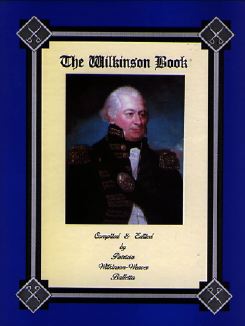 This remarkable book on General James Wilkinson of the American Revolutionary War has been donated to this site by the author. This book includes a biography of the General, the General's pedigree (his ancestors), and his descendants. The book is very well researched, and includes pictures, photographs, copies of news articles, and thorough references. The biography covers (among other things) his youth, his experiences in the war, his involvement in the Burr conspiracy, his involvement with Kentucky statehood, and his death in Mexico city. Ancestry is traced back to William the Conqueror and his contemporaries, descendants to the present day.

Some of the included family names are: Biddle, Trudeau, Heighe, Skinner, MacKall, Storer, Morgan, Owen, Babington, Smith, Kempe, Andrews, Penrose, and Tompkins.

The Wilkinson Book is hard cover, 513 pages including additions, color photos, and documentation. The cost is $75. I am willing to do occasional lookups of names and dates for people who believe that they are related to James Wilkinson. Of course, I don't want to undermine the author, so if you are interested, the book is available for purchase from the author:

Patricia Wilkinson-Weaver Balletta
26 Sunset Road
Bay Shore, L.I., NY 11706 (US)

I highly recommend this book for anyone who is interested in their family history, anyone interested in the General and his life, or anyone who want to see how such a book is done correctly.

---
Some more information about this book provided to the site:
A very dear friend of mine, Patricia Wilkinson Weaver Balletta, has written a book on the genealogy & history of Gen. James Wilkinson (1757-1825) grandson of Capt. Joseph Wilkinson, who came to America prior to 1726 & settled in Calvert Co., MD. In retrograde all known progenitors are covered in this book including the lines of the following - Biddle, Trudeau, Heighe, Skinner, MacKall, Storer, Morgan, Owen, Babington, Smith, Kemp, Wilkinson, Andrews, Penrose , Tompkins & others, all of MD, PA & Al; including the British royal lines & the Magna Charta Sureties.
Patricia won the 1996 annual competition for the best book of the year on Maryland Families awarded by The Maryland Historical Society of Baltimore, MD.
She has books available for sale and I thought that you might be in touch with some Wilkinson researchers, who might be interested in the book. The book is hard cover, 513 pages & sells for $75.00/ post paid. It can be ordered from Patricia W. W. Balletta, 26 Sunset Rd., Bay Shore, L.I., NY 11706.
Any help or thoughts on how I can help her market the book? It is listed in the 5th edition of Genealogical & Local History Books in Print by Marian Hoffman.
Thanks so much. I look forward to hearing from you.
Sue Gardner Shreve
SUE12632@aol.com

---