Alice Wilkinson
Debussy Preludes, Book II
My aunt, Alice Wilkinson, has released a second CD of her piano performances. Again I may be biased, but I'm not the only one who appreciates her talent. A quote from the New York Concert Review in June/July, 1994 stated:
"Poise and dignity … emphasized form smoothly and lyrically … finely developed technique … bursts of lush tonality."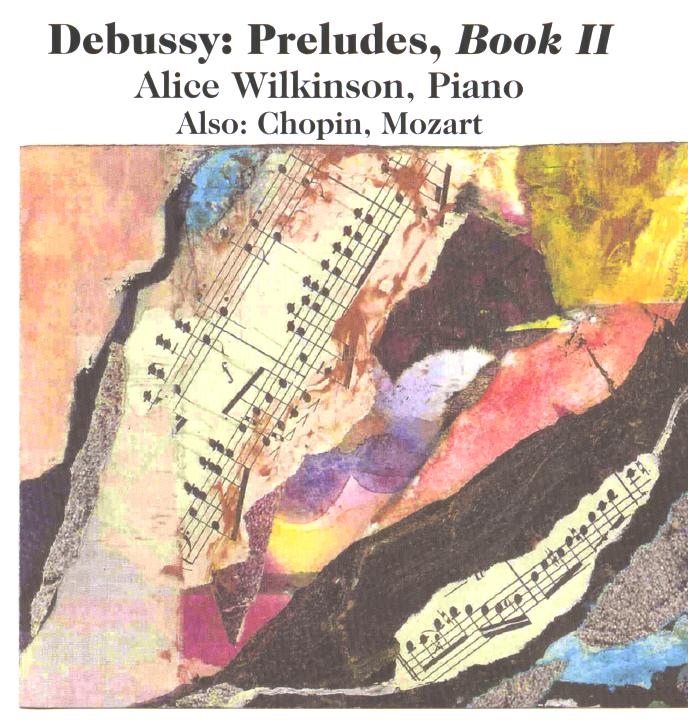 Content
1-12 Preludes, Book II, 1913 by Claude Debussy (1862-1918)
Brouillards (Mists)
Feuilles mortes (Dead leaves)
Bruyères (Heaths)
General Lavine, eccentric
La terrasse des audiences du clair de lune (The audience terrace by moonlight)
Ondine (Water nymph)
Hommage a S. Pickwick, P.P.M.P.C.
Tierces alternées (Alternating thirds)
Feux d'artifice (Fireworks)
Fantasia in C minor, K475 by Wolgang A. Mozart (1756-1791)
Ballade in F Major, Op. 38 by Frederic Chopin (1810-1849)
Here's a link to her first CD as well.
CDs may be purchased for $12 plus $3 shipping and handling by sending an email to aliceswlksn@verizon.net.
Biography
Alice Wilkinson is presently a member of the faculty of the Longy School of Music in Cambridge, Massachusetts and previously served as Chair of its piano faculty. She was formerly a member of the piano faculty of Duke University. She has performed as soloist and chamber musician numerous times on both the East and the West coasts, including performances at the Gardner Museum and Cernegie Recital Hall. As orchestral soloist, she has appeared with a number of orchestras, including the Boston Pops, Duke University Symphony, and the North Carolina Symphony (with whom she made her first solo appearance at the age of fourteen).
Mrs. Wilkinson's students have won the Dubbs Prize, NEPTA Scholarships, Massachusetts Woman's Club Scholarships and the Commonwealth Competition. Her students have played concerto performances with numerous area orchestras, including Northeastern Orchestra, Boston University Symphony, Longy Chamber Orchestra, North Shore Philharmonic, Merrimack Valley Philharmonic and Reading Orchestra.
Mrs. Wilkinson began piano lessons at the age of five. She received her Bachelor's and Master's degrees from the Julliard School of Music, where her teachers were Katherine Bacon and Eduard Steuermann. She studied at the Chigiano Academy in Siena, Italy with Guido Agosti. Among her other teachers and coaches have been Eugene Istomin, Arthur Balsam, Russell Sherman and Jacob Maxin.